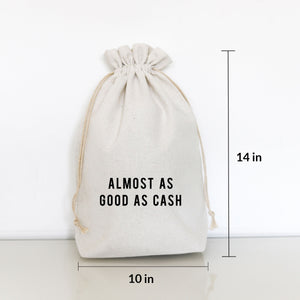 When a small gift bag isn't quite big enough, we've got you covered. Our medium sized gift bag is perfect for a book, toy, apparel item or that unique gift that deserves special packaging. Gift bags are reusable which is another added bonus.
Product Detail:
10" x 14" natural linen-like cotton
Professionally printed with eco-friendly permanent ink that won't crack or peel. 
For wholesale gift bags, minimum quantity is 6.
Oh, yeah, and… you can customize gift bags, too! To order a customized gift bag, simply navigate to CUSTOMIZE HERE on the top toolbar.
At Wildwood Landing our goal is simple: to bring laughter and kind words into your day!
Designed and printed in Charleston, SC.
This listing is for design as shown (props not included).